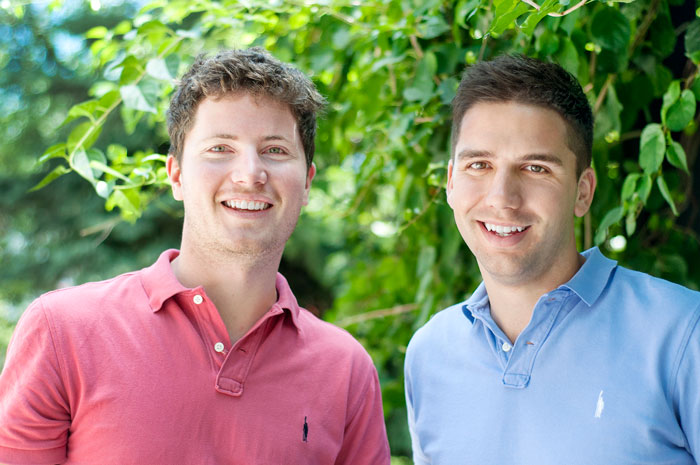 Patrick Meyer & Jamie Shea
Our company, Chefs Plate, is an online meal-kit delivery service. We're re-inventing the home-cooking experience, making it easy and affordable for people to make delicious and nutritious meals. Each week, our subscribers receive custom-designed recipes and fresh, seasonal, pre-portioned ingredients delivered to their doors, to be transformed into meals in 30 minutes or less.
Why we started the company: After graduating from Queen's Commerce, we knew we wanted to build our own company and had been kicking around ideas for some time. We started working in the corporate world knowing this would give us the right experience and a foundation to help make our vision a reality. We really took our time to find an idea that would resonate.
Our 'aha' moment: came when we realized how much we were spending on takeout and delivery meals every week. We knew we could save money and eat healthier food by cooking at home, but that seemed too time-consuming, inconvenient and expensive, given the amount of food we seemed to throw out every week. That's when we realized that there was a big opportunity to develop a curated meal-delivery service. We firmly believe that food will be the final frontier of e-commerce; so far, no one has really scratched the surface.
The most fun we've had so far has been seeing Chefs Plate boxes being assembled and shipped from our Toronto production facility every Monday morning. Watching those boxes going out to all our subscribers is one of the most validating experiences we could have as business owners. It's the culmination of all the work that we and our team of 50 do.
Something we tried that didn't work (and why not): We both came from working in an office environment, so it's been quite a journey learning to equip and operationalize a production facility. Jamie tried to pick up our first 500-lb. vacuum-packing machine in his VW Jetta. It did not go well. 
Submit your New Venture
To be showcased in this section, please send us the details of your startup by submitting our form.