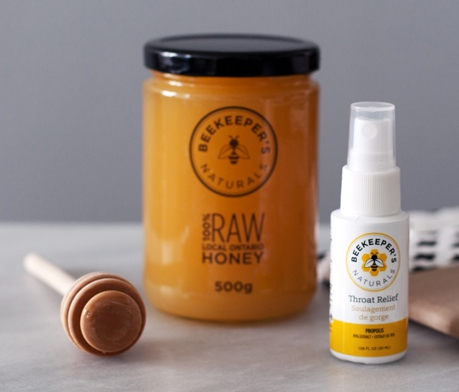 Our company, Beekeeper's Naturals, produces sustainable all-natural superfoods from the hive that promote health and well-being while raising public awareness to help protect the bees. 
Why we started the company: During grad school, the effects of burning the candle at both ends caught up with me and I was coming down with colds or flu at least once a month. A friend recommended a natural remedy, propolis, which I tried and it worked! I felt that I had to spread the word about this amazing substance that bees make from tree and plant resins to seal their hives and protect them from predators and disease. Propolis possesses antibacterial, antiviral, antifungal, anti-inflammatory and antibiotic properties and is often called "Russian Penicillin" or "nature's antibiotic".
About our company: In 2014, my business partner Carly Stein and I started selling a unique propolis spray, which is now sold in over 500 stores across Canada. We source our bee products from sustainable beekeepers across the country. We're proud to be a certified B Corp — a for-profit company shown to meet rigorous standards of social and environmental performance, accountability, and transparency. A core part of our mission is to give back and save the bees and we use our platform to educate others about the bees and their importance to our environment and food supply. We donate a percentage of our revenue to the Canadian Bee Research Fund and have partnered with the David Suzuki Foundation. We also lecture and lead workshops across Canada to educate people on the importance of bees.
The most fun I've had so far was when: I rescued a swarm of over 20,000 bees from a tree branch at eye level outside a building in Toronto's financial district. People were freaking out when I walked through a flower bed wearing my beekeeper suit and moved the bees to an apiary close by. No people (or bees!) were hurt.
Submit your New Venture
To be showcased in this section, please send us the details of your startup by submitting our form.