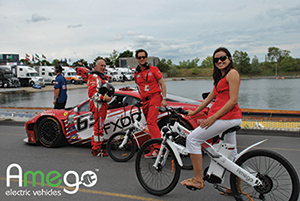 My company, Amego Electric Vehicles,designs, distributes and retails electric bikes and electric scooters that require no insurance, licence or parking fees. Amego's customers are leaving their cars at home, saving time and money, foregoing public transportation, and having fun! The company offers stylish electric bikes that emphasize safety and durability, and are available through 18 dealers across Canada and at a corporate store in downtown Toronto.
Scope: 4 employees, $400,000 annual revenue
My 'aha moment': I was inspired to pursue the business at a Queen's Business Club event that featured Trend Hunter Jeremy Gutsche, AMBA'05, author of Exploiting Chaos. The light-bulb moment happened when Jeremy was asked what he saw as the next big market opportunity: "Electric bikes!" he exclaimed. Soon after, I went to China and connected with a pioneer in the industry, who showed me the ropes and travelled with me from Guangzhou to Shanghai. That's where I selected the models that would set Amego apart from the competition, and where I found the best manufacturers of motors, controllers, moulds, batteries and frames.
The most fun I've had so far was when I formed a co-branding partnership with Ferrari's Canadian professional race team, AIM Autosport, and travelled with them to promote our Ferrari-endorsed Amego Brave and Bold bikes.
Submit your New Venture
To be showcased in this section, please send us the details of your startup by submitting our form.