Social Innovation Bootcamp arms students with ideas to drive social change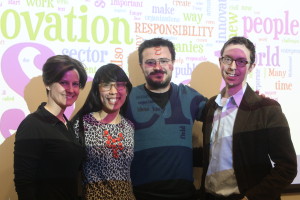 KINGSTON, ON – Mar. 16, 2013 – A full weekend of speaker presentations and discussions on social innovation attracted 45 Queen's Commerce, MBA, Arts & Science, and Policy Studies students to the inaugural Social Innovation Bootcamp at Goodes Hall on March 15 and 16.
The bootcamp, hosted by the QSB Centre for Responsible Leadership, was designed to teach students how to drive social change in their careers and in society using tools for social innovation central to both social intrapreneurship and entrepreneurship.
The Centre brought together a roster ­­­of nine inspirational speakers including Tania Carnegie, Executive Director, Community Leadership at KPMG, Russ McLeod, Chief Operations Director of Me to We, and Andreas Souvaliotis, Founder of AIRMILES for Social Change.
The Centre intends to continue to convene events around the topic of social enterprise, an emergent field that speaks to students' growing interest in finding innovative ways to put their business acumen towards social good.