Professors Mike Welker and Ceren Kolsarici are QSB Research Excellence Award Recipients
Posted on November 21, 2013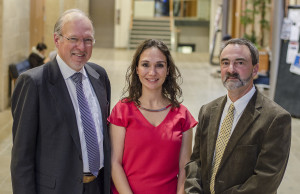 Nov. 21, 2013 – Kingston   This year's recipients of the Queen's School of Business Research Excellence Awards were lauded at a reception at Goodes Hall on Nov. 14. The QSB Award for Research Achievement was presented by Dean David Saunders to Mike Welker, KPMG Faculty Fellow in Accounting, while New Researcher Achievement Award honours went to Ceren Kolsarici, Assistant Professor and Distinguished Faculty Fellow of Marketing.
It has been a notable year for Mike, whose widely cited research focuses on disclosure and international accounting issues. Besides the QSB research award, he received a major three-year grant from the Social Sciences and Humanities Research Council (SSHRC), the latest of his five SSHRC grants. He is widely published in the top accounting journals and has served on the editorial boards of a number of accounting research journals. In 2011, he received the Haim Falk Award for Distinguished Contribution to Accounting Thought, given by the Canadian Academic Accounting Association.
Ceren's research, supported by a SSHRC standard research award, aims to improve managerial decisions and marketing applications by helping managers better understand how marketing affects performance. She has developed new models and methods to measure the many simultaneous effects and cross-media interactions of modern multi-platform marketing campaigns. She is also studying the role of heuristics (managerial judgment) and analytics (decision models) in advertising budgeting decisions.
The Research Excellence Award program is administered by an ad hoc committee of QSB professors who consider the research achievements of their peers. In addition to the recognition, recipients receive grants to support their research and facilitate its dissemination into journals and other quality publications.