Paul and Tom Kinnear Business Plan Competition winner takes $5K top prize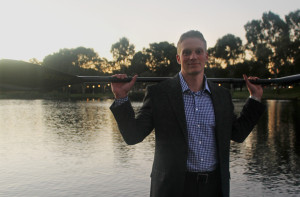 KINGSTON, ON – Mar. 29, 2013 – Jeffrey Ralphs, Comm'14, took top honours at the annual Paul and Tom Kinnear Business Plan Competition held March 28 at Goodes Hall. His venture, KRG Racing, is a paddling equipment company that engineers, manufactures, and markets high performance products to help flat-water paddlers of all levels excel in their sport.
Says Jeffrey, "The competition served as the impetus for me to develop and write a comprehensive business plan with a clearly defined strategy and execution plan. I was able to bring to life the skills and knowledge I gained through my Commerce studies in the process."
Jeffrey faced some challenges in competing. He is on exchange in Australia, studying at the University of Adelaide.
"Being on exchange on the other side of the world and delivering my presentation at 1:00 a.m. over Skype wasn't easy, but it all came together," he says.
Established in 2008 by Dr. Tom Kinnear, BCom'66, LLD'02, the competition awards the winning team $5,000 to launch or further the ongoing operations of its venture. Each year, teams that comprise at least one QSB Commerce student submit their business plans. After a preliminary round, the final four teams present to a panel of judges that selects the winning team.
This year, the judges were: Jane Wu, BCom'12, a past winner and co-founder of Penyo Pal, a mobile application that teaches English, French and Mandarin language skills; Dr. Shyam Ramchandani, a Queen's adjunct professor in Opthamology and CEO of Lab-2-Clinic Solutions Inc.; and Elspeth Murray, BSc'85, MBA'87, Associate Dean, Queen's School of Business and Director of the Queen's Centre for Business Venturing.