Governor General attends signing ceremony for Queen's-Renmin universities
Posted on October 18, 2013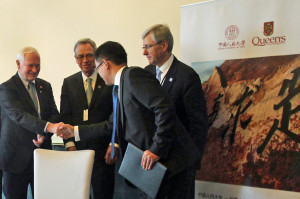 Students can now earn a Queen's Master of Finance degree at Renmin University in Beijing
Kingston, ON –  Queen's School of Business and Hanqing Advanced Institute of Economics and Finance, Renmin University, China, signed a Letter of Intent today at a ceremony in Beijing to further the relationship between the two institutions. The signing officially launches a joint Master of Finance program to be offered in China. The program was recently approved by the Ministry of Education in China. The first class of the Queen's-Renmin Master of Finance will begin in September 2014.
The ceremony was held at the Westin Beijing Chaoyang Hotel shortly before the Canada China Business Council's 35th Annual General Meeting Banquet Luncheon at which His Excellency, the Right Honourable David Johnston, Governor General of Canada, delivered the keynote address on Canada's relationship with China. A delegation of Canadian Cabinet Ministers, Guy Saint-Jacques, Canada's Ambassador to China, and representatives from Queen's and Renmin universities were also in attendance.
Renmin-Queen's Master of Finance program details
This one-year program was modeled on Queen's popular Master of Finance offered in Toronto. For the Renmin program, the curriculum consists of 10 courses, five taught by Renmin faculty and five taught by Queen's faculty. Students have the option to travel to Canada for one of the Queen's-led courses. All classes are taught in English.
Graduates from the program will receive Queen's Master of Finance degree and a graduation certificate from Renmin University. Applicants must have a university degree and at least two years of relevant work experience. For more information, visit Queen's Master of Finance – Beijing at ssb.ca/mfinchina.
Queen's University and Renmin University
In March 2013, Queen's University and Renmin University also signed an agreement for an undergraduate student exchange program. This agreement provides for exchange of undergraduate students in the disciplines offered by Queen's Faculty of Arts and Science.
China is a region of strategic importance for Queen's University. Over the past decade, the university has worked diligently to establish strong working relationships with leading Chinese institutions. With the opening of the University's China Liaison Office in 2007, Queen's was the first Canadian university to establish a physical presence in mainland China.
- 30 -
For more information, please contact:
Amber Wallace, Queen's School of Business
613.533.3151