George Weston and Shopper Drug Mart executives judge student competition
Posted on November 13, 2013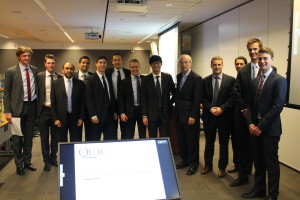 Nov 13, 2013 – Toronto - Commerce students learned first-hand the high stakes involved in advising clients on both sides of a major acquisition as part of the third annual QUIC Analyst Deal Competition held in Toronto in October. Two competing teams analyzed Loblaw's proposed acquisition of Shoppers Drug Mart, with each team advising one of the opposing parties. The two teams of eight students performed an in-depth valuation of the transaction and advised on the synergies and risks associated with the proposed deal.
The exercise was made even more realistic when the teams presented to the panel of judges which included Pavi Binning, President of George Weston Ltd. (Loblaw's parent company), and Holger Kluge, Chair of Shoppers Drug Mart's Board of Directors, as well as QUIC alumni and QSB staff.
The competition was the final stage of QUIC's Analyst Training program that provides Commerce students with the opportunity to learn first-hand about the role of investment bankers.
QUIC, the Queen's University Investment Counsel (QUIC), is a student-run organization that helps undergrads learn more about financial markets and investing. QUIC's team of 25 Queen's Commerce students manages a $600,000 investment portfolio on behalf of the Queen's School of Business, striving to outperform the market.
Visit quiconline.com for details.