Former PM, Health Minister join experts to discuss healthcare strategy at first conference in series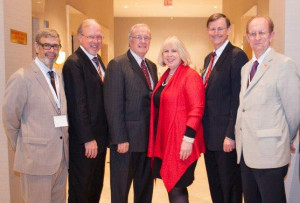 Toronto, ON – June 14, 2013 - Toward a Canadian Healthcare Strategy—the first in the three-part Queen's Health Policy Change Conference Series —  opened the dialogue on system-wide reform in Canadian healthcare. The inaugural conference took place in Toronto June 13 and 14 and attracted senior professionals in business, government and academe. The series is a joint initiative of three Queen's faculties – Queen's School of Business (QSB), School of Policy Studies and Faculty of Health Sciences.
The June event brought together more than 100 senior-level participants for panel discussions, keynote addresses and conversations with Canadian thought leaders, including former Prime Minister Paul Martin and Ontario Minister of Health and Long-Term Care, Deb Matthews, among many others.
The conference series is designed to foster the development of a strategy to effect change in healthcare delivery by drawing together senior policymakers, industry leaders, and academics to promote action in this most vital area of Canadian society.
The second conference, Creating Change in Canadian Healthcare, will take place  May 2014; the third, Managing a Canadian Healthcare Strategy, is planned for May 2015.
The conference is part of a larger initiative by The Monieson Centre for Business Research in Healthcare to develop collaborative research, speaker series, conferences and whitepapers aimed at this vital Canadian issue. Further details can be found at www.moniesonhealth.com