ComSoc conferences and competitions round-up
Posted on February 13, 2013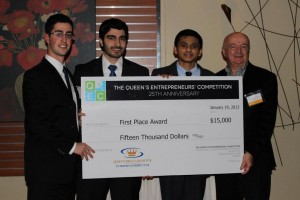 Feb. 12, 2013 – Kingston Goodes Hall was often filled to capacity with delegates and competitors attending Commerce Society-run conferences and competitions at the start of the winter term. These events attracted business students from across Canada and around the world. They also provide invaluable leadership experience for undergraduate students responsible for all aspects of these major events, including marketing, financial management, sponsor solicitation, communications and logistics.
Impressive attendance numbers and the enthusiasm of the participants made for a highly successful slate of events, summarized below.
• ICBC—The Inter-Collegiate Business Competition's 35th anniversary took place Jan. 3-5. See Jan. 16 News Blog item.
• Q3C—At the Queen's Commerce Corporate Challenge on Jan. 10-12, competitors tackled cases on topics ranging from marketing summer blockbusters like the Harry Potter and Transformer films to online strategic decision-making for the New York Times. Speakers included Miscia Zhang from Oliver Wyman; Erin Flemming and Albert Altinonante from Chubb Insurance; and Matthew McWhirter and Chris Ho from Deloitte Consulting.
• QMAC—Queen's Marketing Association Conference (Jan. 10-13) marked its 28th anniversary with the theme, "Transforming Consumer Value: Transcending Expectations Across Synergized Marketing Platforms." Speakers included Michael Samoszewski, Director of Coca-Cola; Michael Yue, Account Executive at Google Canada; Annie Young-Scrivner, President and EVP of Starbucks; and Kevin Banderk, CEO of Koodo Mobile. Other highlights were the Colgate-Palmolive & Unilever mini-case challenge and the final round of the Labatt QMAC Challenge. The conference attracted 86 delegates across several Queen's faculties as well as 44 external delegates from 16 other Canadian universities.
• QCIB—Queen's Conference on International Business welcomed 84 delegates from 14 Canadian and international universities at its 6th annual event held in Toronto Jan. 17-20. The theme, "Seizing Opportunities in a Global Marketplace," attracted students from UBC to Newfoundland's Memorial University, Japan's Rikkyo University and the University of Western Australia. The Chubb Insurance Case Simulation, held at St. Lawrence Market, used real-time market data to facilitate time-sensitive decision-making. Other highlights included a case competition hosted by KPMG and presentations by such industry leaders as Pat Bolland (Sun News Network host), Ali Velshi (Chief Business Correspondent, CNN), Phillip Crawley (CEO and Publisher, The Globe and Mail) and Aron Gampel (Vice-President and Deputy Chief Economist, Scotiabank.) qcib.ca
• QEC—Queen's Entrepreneurs' Competition celebrated its 25th anniversary Jan. 17-19, by welcoming back its founder, Meredith Van Binsbergen, and the inaugural winner, Gerald Risk, BCom'90 graduates. Both spoke at the gala, sharing their memories of QEC's somewhat humble beginnings and congratulating organizers on having expanded the competition's reach to 18 teams from around the world, including Australia, Bangladesh and Hong Kong. More than 20 judges, many with strong ties to QSB, sat in judgment of 20-minute venture capital pitches by competitors vying for a share of $25,000 in prizes. The top prize of $15,000 was won by MouseHouse, a team from the University of Chicago. Their application enables researchers to track experimental data, health and complex breeding schemes of laboratory mice. theqec.com
• QSIC—Queen's Sports Industry Conference brought together student delegates from across North America at its Jan. 24-26 event in Kingston. Standout speakers included Terry Evanshen, CFL Hall of Famer and motivational speaker; Mark Ditmars, VP Corporate Partnerships, Toronto Blue Jays/Rogers Sports and Entertainment; and Jonathan Savage, VP Product, Score Media Ventures.