Commerce students' Startup Summit kick-starts innovative ventures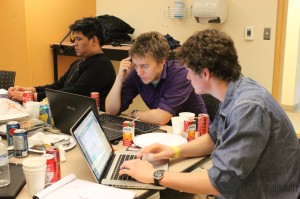 KINGSTON, ON – Mar. 3, 2013 - Students from across Ontario and Quebec descended on Queen's to attend the inaugural Queen's Startup Summit, March 1 to 3. In the space of 54 intense and exhilarating hours, delegates pitched and fleshed out their business ideas in the hopes of snagging cash prizes totalling $8,000.
The Summit was organized by 3rd-year commerce students Richelle Ji and Jordan Han along with a team of engineering, computer science, arts and science, and commerce students at Queen's. It was modelled on the world-wide phenomenon Startup Weekend that has been offered in 100 countries since its 2007 inception. Queen's Startup Summit is an outlet for students to collaborate, innovate, and try their hand at starting a business, all in a risk-free environment.
Attending the Queen's Summit were 81 delegates from Queen's, McGill, Waterloo and U of T representing a mix of disciplines and backgrounds. The weekend kicked off with Listn co-founders Matt Rabinovitch and Mike Schmidt's highly motivating presentation before delegates pitched their initial ideas to the full group. Ideas were then voted on and delegates joined teams which sparked their interest, with each team comprising a mix of generalists (with business, marketing, PR or other expertise), graphic designers, and web developers. Teams worked throughout the weekend to develop their concepts with the help of roving mentors who offered their feedback.
Following the final pitches on Sunday afternoon, the judges delivered their verdict:
* $5,000 was awarded to "Drip," a social application that tracks users' blood donations, books future donation appointments, and offers a friends leaderboard that "gamifies" and promotes blood donations.
* $2,000 prize went to "Nightlife," a social application that shows events taking place at local bars and clubs and also tracks whether the user's friends are in the vicinity.
* $1,000 was awarded to "Backtrack," an application that compiles information from multiple sources, features and social media on the user's smart phone to document the user's activities over a specific period of time.
Visit startupqueens.org for more information.