Commerce students nab 2nd place at prestigious US national sales competition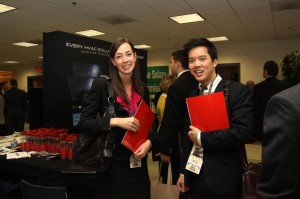 KENNESAW, GA – Mar. 4, 2013 – Commerce students Natalie Fisher and Gary Tam made quite an impression on judges at the US National Collegiate Sales Competition (NCSC) at Kennesaw State University, outside Atlanta, GA.
Gary placed fourth overall while Natalie placed 7th in a field that comprised 134 competitors representing 67 universities across the US (QSB was the only international  team that competed at the undergraduate level.) Based on a points system, QSB placed second overall in this prestigious annual competition, now in its 15th year. The pair were coached by QSB sales and marketing faculty member Jim Hamilton.
The NCSC is the largest and oldest role-play sales competition in North America.  The format of this year's competition required students to become subject matter experts on corporate sponsor ADP's first free mobile payroll app and then role-play closing the deal with a potential client, all the while facing numerous objections and distractions.