Commerce grads sent off in style at Dean's Scene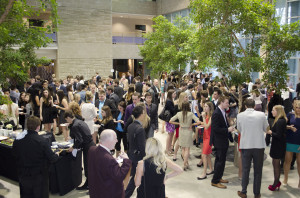 Outstanding students, professors and staff recognized
Kingston, ON – April 5, 2013 – The Commerce graduating class was out in full force to celebrate the end of their four-year journey. The Dean's Scene — an evening of presentations, a few speeches and a reception in the Bio-Sciences building — brought together the Commerce Class of 2013, faculty and staff for the festivities.
Class Valedictorian Ben Jain gave a thoughtful and rousing speech, and the following awards were presented by Dean David Saunders.
* Comm'74 Award — for contribution to the class during their four years in non-academic, non-athletic matters, to Nicola Plummer.
* Comm'96 Award —for contribution to the spirit of the graduating class in its final year, to Katherine Moraca.
* Outstanding Contribution to Student Success — to the IT Help Desk.
* Comm'89 Award —the Professor-Student Life Award, to Professor David McConomy.
*Commerce Society Teaching Excellence Award — to Professor Peter Kissick.