Commerce alums place third at global young marketers competition in Cannes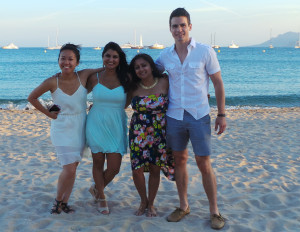 Four Commerce alumni had the experience of a lifetime at the prestigious Young Lions Marketers Competition in Cannes, France, in June. Teammates Sahar Jamal and Michelle Yee, both BCom'11s, won Bronze competing against 22 teams from around the world. The pair had won the right to represent Canada by placing first at the Canadian national competition in Toronto in April. Capturing second at the nationals were Steven MacLean and Gemma Gadher, both BCom'08s, who won a trip to Cannes to observe the competition and participate in the seminars and other events.
The competition is designed to celebrate creativity and recognize young talented "in-house" marketers, age 30 or under, from around the world.
Ken Wong, QSB Marketing Professor and Marketing Hall of Legends Inductee, says, "In the advertising community the Cannes Awards are the worldwide Oscars. This is a huge achievement!"
Sahar, an Associate Brand Manager at Reckitt Benckiser Canada, and Michelle, a Marketing Specialist at Telus, created a project for Room to Read, a global organization that focuses on child literacy and gender equality in education. See a video describing their Cannes award-winning presentation here.
"Being recognized at Cannes for your work definitely instills a level of self-confidence that you can trust your instincts and know when you're onto something," says Michelle. Adds Sahar, "The Young Marketers Competition made us flex our marketing muscles and prove that we have the skills and work ethic to succeed."
The Young Lions Marketers Competition was part of the 60th Cannes Lions Festival of Creativity, the world's leading celebration of creativity in communications, that ran from June 16 to June 22, in Cannes, France.