Com-Soc sponsored micro-credit challenge reaps rewards for charity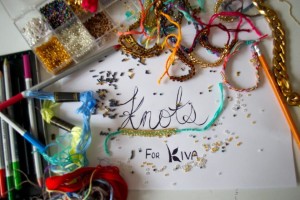 KINGSTON, ON – Mar. 25, 2013 – Throughout much of the month of March, Commerce students exercised their entrepreneurial chops in support of a good cause. The annual Queen's Micro-Credit Challenge is a student-run micro-financing initiative that gives budding entrepreneurs experience in running their own businesses, with profits from these ventures benefitting Kiva, which offers micro-loans to entrepreneurs in developing nations. 
Teams create and operate their businesses for one week, using $100 provided by the Commerce Society as start-up capital. More than 25 students from various faculties participated, fielding eight teams who had access to QSB faculty mentors to help guide their efforts. 
This year's winning enterprise is Knots for Kiva, led by Kathy Sihavong (ArtSci'16), Jenna Ellis (ArtSci'16), and Sarah Chin (Con-ed'16), mentored by Jean Paul de Silva, MBA'10, Founder and Managing Director of Social Focus Consulting.
They produced hand-made charm bracelets from string and common items provided by sponsor Canadian Tire.  By integrating social entrepreneurship and sustainable practices into their business project, Knots For Kiva successfully raised more than $650 in profits.