Changes at the top in QSB Commerce and Executive Education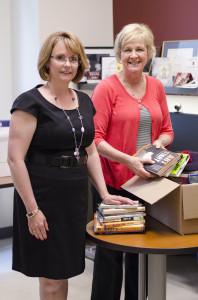 Kingston, ON – June 20, 2013 -   Both Shannon Goodspeed and Tom Anger — Executive Directors of the Commerce and QSB Executive Education programs respectively — are moving on from their current roles, but staying within the QSB family. After their terms expire on July, both will continue to make their presence felt as members of the school's faculty.
Shannon joined the school in 2004, originally as Associate Director then Director of the full-time MBA program. She has led the Commerce program since 2007, during a period of significant change. Under her leadership the school welcomed a larger Commerce class, but never at the expense of quality. She was also instrumental in overseeing the development and implementation of a complete curriculum review.
Stepping into the Executive Director's role is Lori Garnier, the current Commerce Director of Operations. Since joining QSB in 2002, Lori has gained extensive management experience as a Program Manager with QSB Executive Education and as Associate Director of the full-time MBA program.
Tom Anger has led QSB Executive Education since 2003, during a ten-year period that has seen great change. Tom and his team grew the custom executive education business significantly, and both introduced new short-format and certificate programs and expanded their delivery to cities across Canada and overseas, specifically to the Middle East-North Africa (MENA) region.
On July 1, Salman Mufti takes on the challenge of continuing to enhance the school's position as one of Canada's most respected executive education providers as Associate Dean and Executive Director of QSB Executive Education. A graduate of the Queen's Executive MBA Class of '97 and a McGill PhD, Salman has extensive teaching experience and managerial expertise as a former Director of both the Executive MBA and full-time MBA programs. Prior to joining QSB in 1997, Salman spent 12 years as a manager, entrepreneur and consultant in the private and public sectors.