Alumni return for Homecoming Brunch at Goodes Hall
Posted on October 10, 2013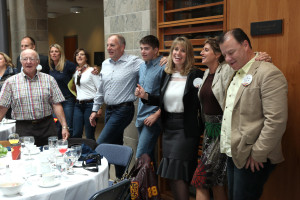 Oct. 5, 2013 – Kingston — Homecoming's return was celebrated by 150 of the school's alumni, faculty and staff at a brunch that filled the BMO Atrium of Goodes Hall on October 5th.
Highlights included:
• An update on school news from Dean David Saunders;
• Class gift presentations by the Commerce and MBA Classes of 1988;
• Student-led tours of Goodes Hall, including the new wing that opened in 2012;
• A spirited Oil Thigh that set the mood for the afternoon's football game (a Queen's victory over Laurier.)
Check out more photos on the school's Facebook page.
This was the first of two Homecoming weekends being celebrated at Queen's. The next takes place Oct. 18-20 when alumni celebrating their 10th, 20th, 30th, 40th and golden anniversaries will enjoy a full slate of activities, including the QSB brunch, a sold-out Gaels vs Guelph football game, and much more.