Students explore 'change the world' possibilities at Responsible Leadership Summit
Posted on November 11, 2012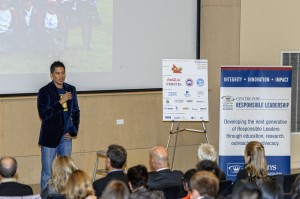 Oct 12, 2012 – Kingston. Can big business really change the world? Can grassroots solutions from one country be exported to solve social problems in others? Close to 300 delegates, mostly Queen's Commerce, MBA and MIB students enrolled in the Certificate in Socially Responsible Leadership program, explored these and other topics at QSB's 8th annual Responsible Leadership Summit on Oct. 12 – 13.
Thirty-three speakers from the corporate, academic and not-for-profit sectors imparted a wealth of perspectives in panel discussions, presentations, hands-on workshops and plenary sessions.
Keynote speakers Bruce Poon Tip, founder of G Adventures, and Dr. Anil Gupta, Founder of India's Honey Bee Network, delivered inspirational messages. Bruce described how his world-leading travel adventure company built its success on the principal of "Do the right thing all the time, every time."
Dr. Gupta's Honey Bee Network comprises farmers, scholars, academics, policy makers, entrepreneurs and non-governmental organizations. He described how a cross-pollination of ideas, creativity and "grassroots genius" uncovers solutions to society's needs that can be transported from one country to another.
Nicola Kettlitz, President of Coca-Cola Canada, George Smitherman, former Deputy Premier of Ontario, David Labistour, CEO of Mountain Equipment Co-op, and Andreas Souvaliotis, Founder of AIR MILES for Social Change and Chair of the Centre for Responsible Leadership's advisory board were among the many other featured speakers.
"Feedback from both students and speakers has been tremendously positive" says the Centre's Director, Dr. Tina Dacin. "A huge thank you to our amazing speakers and sponsors who made this year's Summit possible. It will certainly be hard to top next year, when the Summit runs from Oct. 18 to 19, 2013, but we will try!"
Highlight videos from the Summit will be available on the Centre's website shortly.