Queen's School of Business re-accredited by prestigious international association
Posted on February 7, 2012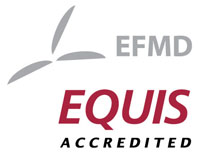 Kingston, February 3, 2012 –
The European Foundation for Management Development (EFMD) has awarded Queen's School of Business EQUIS re-accreditation. The European Quality Improvement System (
EQUIS
) is the leading international system of quality assessment, improvement and accreditation of higher education institutions in management and business administration.
Queen's School of Business (QSB) is also accredited by the U.S.-based Association to Advance Collegiate Schools of Business (AACSB), the other leading global academic quality assessment organization.
"EQUIS accreditation is yet another validation of the quality educational experience Queen's School of Business offers," says Dean David Saunders. "Being a member of this exclusive group speaks to QSB's reputation as an innovative global leader in business education."
QSB received its initial accreditation for a five-year term in 2006 and, following a thorough review process in the fall of 2011, its re-accreditation was confirmed in December.
To be accredited, institutions must demonstrate high academic quality and professional relevance, as well as a high degree of internationalization in keeping with the increasingly global business and educational environment. EQUIS also looks for innovation, especially in program design and pedagogy.
The fundamental objective of EQUIS is to raise the standard of management education worldwide. EFMD's diverse membership of international academics and professionals form the pool from which the international peer review teams are drawn. As of December 2011, 133 business schools in 38 countries have been awarded EQUIS accreditation.