MBA team wins Sustainability Challenge in Montreal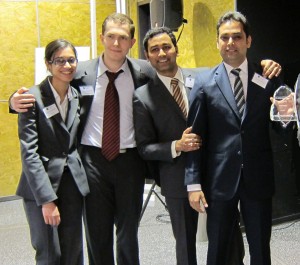 Montreal, March 17, 2012 - A team of four Queen's MBA students captured first place honours and the $4,000 top prize at a case competition on business and sustainability held as part of the Montreal Sustainability Weekend on March 17. The Weekend, organized by McGill and Concordia Universities and HEC Montreal, attracted 11 teams from Canada, the US and Denmark.
The QSB students successfully presented their case on the entry of Alcoa, the world's leading producer of primary aluminum, into Saudia Arabia and the social, environmental and economic impacts of such a move.