January a busy month for Commerce Society conferences and competitions
Posted on February 10, 2012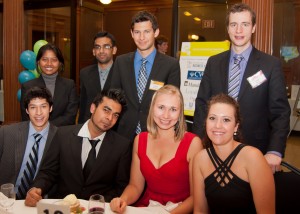 Delegates from across Canada and around the world hone business skills in international business, marketing, entrepreneurship and the sports industry
Kingston, February 9, 2012 – Commerce student organizers hosted three conferences and one competition in January, attracting delegates from across Canada, the US and overseas, including teams from Bangladesh, South Africa and the Netherlands. All aspects of the planning and delivery of these conferences are spearheaded by Commerce students who gain invaluable leadership experience in the process.
Each of the four conferences are summarized below:
QMAC – Queen's Marketing Association Conference welcomed 130 Canadian and international delegates at its event held Jan. 12-14. A highlight – the QMAC Challenge marketing case competition – tested delegates' critical thinking and creativity. Commerce students Jia Zhen and Hemani Kamdar, both Comm'14, won the top prize: a seat at The Body Shop's table at the Canadian Fragrance Awards. Speakers included Alfredo Tan, a Senior Director at Facebook Canada; John Betts, the CEO of McDonalds Canada; and Marc Boderke, VP of Marketing at Mercedes Benz. Unilever shared the weekend's title sponsorship with The Body Shop.
QEC – Queen's Entrepreneurs' Competition's move to Toronto attracted a stellar group of 16 finalist teams representing 14 universities at the Jan. 19-21 event. QEC founder Meredith van Binsbergen, BCom'90, attended and remarked: "The international reach, high number of participating teams and sophistication of the business ventures put forward reflect that the entrepreneurial spirit is alive among today's University students." Sponsors included Queen's Centre for Business Venturing, Queen's MBA Class of 1970 Entrepreneurship Fund, CVCA (Canada's Venture Capital & Private Equity Association), Manulife Bank, LoyaltyOne, Corplex Canada, Clean-Mark Industries, JCM Capital, Inceptive Solutions, Unilever, and Bounce Entertainment. Keynote speakers included Chris Hodgson, Head of Industry Retail for Google Canada; John Poulos, President and CEO of Dominion Voting Systems, and Ted Zittell, President at Ted Zittell & Associates. For complete results, visit QEC.
QCIB – Queen's Conference on International Business focused on 'Celebrating Innovation by Gaining First Mover Advantage' with a diverse line-up of speakers, including Betty DeVita, CEO and President of MasterCard Canada, former federal cabinet minister Pierre Pettigrew, Austin McGhie, President of Strategy at Sterling Brands, and Richard Ross, Inmet Mining's former CEO. The Toronto event, held Jan. 19-22, brought together delegates from 12 universities and featured a case competition sponsored by LG. Commerce students Vladana Zlatic and Sarah Marion were members of the winning team that presented options for LG to reclaim market share in developed countries and penetrate more developing markets.
QSIC – Queen's Sports Industry Conference held Jan. 26-28, welcomed 120 delegates to explore the theme 'Dream. Believe. Achieve.' In addition to hearing from such speakers as Ian Clarke, CFO, Maple Leafs Sports and Entertainment and Anthon Thun of MFIVE Sports Management (NHL star Vincent Lecavalier's agent), delegates competed in the Case Classic Competition to solve a business problem facing the Toronto Argonauts CFL team.