Graduating Class Pledges MBA Oath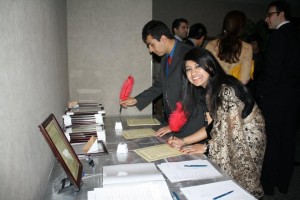 On April 14th, 68 members of the graduating MBA class of 2012 pledged to lead with integrity and to use the knowledge and skills they acquired at Queen's to create value for society.
"The Queen's MBA Oath was initiated by last year's graduating class, and we wanted to be sure to continue the tradition" commented Kenneth Chow, a member of the Student Executive Council that organized this year's MBA Oath Ceremony. "We hope that the Oath will become a tradition with all future Queen's MBA graduating classes".
The Queen's MBA Oath was developed as an adaptation of the MBA Oath Project, a movement started in 2009 at Harvard Business School with the mission "to facilitate the widespread movement of MBAs who aim to lead in the interests of the greater good and who commit to living out the principles articulated in the oath". It is a voluntary pledge taken by graduating MBAs around the world.
The Queen's MBA Oath ceremony took place prior to their graduating class dinner. The keynote address was delivered by Tania Carnegie, National Director of Community Leadership at KPMG, and a Visiting Executive at QSB's Centre for Responsible Leadership.
Ms. Carnegie commended participants for taking the Oath, commenting that it is a grounding document which "signifies your recognition of the responsibility that comes with the privilege of leadership; that each one of us has an impact through our words and actions; and that our choices influence the behavior of others".
Carnegie encouraged students to think about their own personal definition of success and how they can make a positive difference either through their own entrepreneurial pursuits or by being a 'social intrapreneur' within their organizations.
Participating students verbally pledged the Oath as a group and then signed a ledger which will be kept at Queen's. Each also left with their own signed and framed copy of the Oath to serve as a visual reminder of the commitments they have made.