Goodes Hall Expansion Open for Business
Posted on September 18, 2012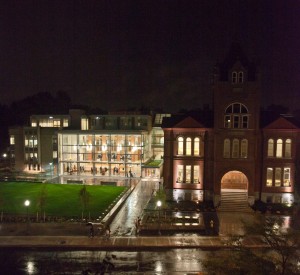 QSB celebrates new $40 million wing with alumni on Reunion Weekend
September 18, 2012 — Queen's School of Business (QSB) officially opened its new, 75,000-square-foot addition this weekend in Kingston, Ontario. The original building—Goodes Hall, the first purpose-built home of the School of Business—opened in 2002. Since then, increasing enrollments and a growing suite of new programs necessitated the construction of an addition.
The School held a sneak preview of the new wing for benefactors, fundraising volunteers and QSB's Advisory Board on September 14. This was followed by the official opening with 250 alumni at the annual Reunion Weekend brunch on September 15. Visionary donor Mel Goodes, accompanied by his wife Nancy and other members of his family, rang a replica of an historic school bell to officially open the wing, reprising a similar role from the 2002 opening. The lead gift of $10 million from the former Chairman and CEO of Warner-Lambert Company helped build the original Goodes Hall; his gift of an additional $5 million contributed to the building of the new wing.
"We were thrilled to be able to celebrate this milestone in the School's history with our benefactors, advisors and alumni, all together on one weekend," said David Saunders, Dean of Queen's School of Business.
The new wing was built on the west side of the existing 110,000-square-foot Goodes Hall, which combines an 1892 red brick Victorian school house with a wing of a modern design on the east side. Some of the features of the new wing include:
• Seven new classrooms with the latest teaching technology
• Two new research centres
• More offices and student common areas
• LEED-certified sustainable design features, including a green roof
• 51 new faculty offices
• A full-service Starbucks coffee shop
"Queen's School of Business continues to be a major player in global business education," said Dean Saunders. "This world-class facility will enable us to expand our footprint and continue to deliver an exceptional experience to our students."
The Ventin Group of architects, specialists in heritage restorations and additions, designed the expansion. Led by Peter Berton, Ventin had also designed the east wing and restoration of the original Victoria School.
Of the $40 million project, $22 million was funded through donations by alumni and friends. The remaining $18 million came from government and university funds related to program growth.
For a selection of photos of the new wing, visit: Goodes Hall expansion