Dr. Karim Damji, EMBA'05, has a clear vision for Africa
Posted on August 24, 2012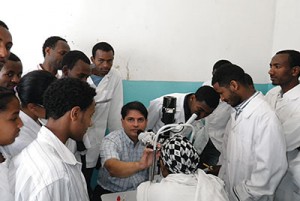 Dr. Karim Damji, EMBA'05, was named a "rising star" in global health by Grand Challenges Canada for his work in glaucoma training for African physicians.
This February, University of Alberta professor of ophthalmology Karim Damji, EMBA'05, was selected as one of Canada's new rising stars in global health by Grand Challenges Canada and awarded $100,000 to further develop an east Africa-based telehealth program to prevent and treat blindness in people with glaucoma.
A large part of the success of his unique 'teleglaucoma' program, Karim says, can be attributed to the knowledge and skills he learned from his Queen's EMBA. Although he had been engaged in international work since the mid 1990s, he realized prior to enrolling in the EMBA program that the only way he could have a lasting impact on the devastation caused by glaucoma and irreversible blindness in the developing world was to create a self-sustaining system where local eye specialists could be trained and retained in their own environment and be able to detect and treat glaucoma at earlier stages.
After relocating to Alberta following the completion of his EMBA, Karim worked with colleagues around the world to develop and successfully implement a unique fellowship training program that allows African physicians to be accepted as subspecialists at the Universities of Ottawa and Alberta.
"It was mainly thanks to the EMBA that I was able to think through the complex issues of capacity building and retention of sub-specialists," explains Karim. So far eye specialists from Kenya's Aga Khan University Hospital, the University of Nairobi, and Ethiopia's Addis Ababa University have received glaucoma subspecialist training and this year the program has accepted two fellows from Ethiopia and another from Libya. To date, these trained subspecialists have all stayed in their home environments, diagnosing and managing glaucoma with consultancy support from Karim and his glaucoma colleagues at the University of Alberta.
Karim says that the $100,000 from Grand Challenges Canada will go a long way in further developing the 'teleglaucoma' program in Kenya and Ethiopia – buying the necessary equipment and training technicians who travel out to underserviced areas and take the 3D eye images that are sent back to the subspecialist for diagnosis. If the program proves to be effective, Karim will be eligible for an additional $1M grant from Grand Challenges Canada next year.
"My ultimate goal is to see people in sub-Saharan Africa and East Africa take full ownership for their own eye care programs, run them sustainably to an international standard, and develop a regional and globally connected network with centres of excellence," he says.
For more information about Grand Challenges Canada, visit www.grandchallenges.ca
To view Karim's proposal video, visit http://vimeo.com/35894630
This article appears in the Queen's Alumni Review 2012 Issue #3