Sneak peek at Goodes Hall expansion progress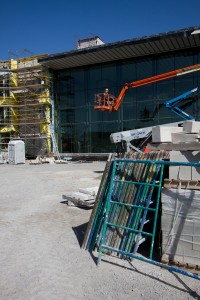 Kingston, April 25, 2012 – Exterior scaffolding around the new wing of Goodes Hall is being removed in stages, exposing the finished sections beneath. Now visible are the floor-to-ceiling windows that offer a view of the common area and the three-storey airy expanse above. Work continues apace on the interior of the building as classrooms, meeting rooms, common areas and offices are well on their way to completion.
Click here to visit the photo gallery to view more pictures.