Queen's Commerce Society spreads holiday cheer
Posted on December 13, 2013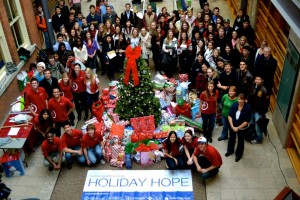 On Friday, December 2nd, the Goodes Hall atrium transformed into a winter wonderland for the wrap-up event of the Commerce Society's annual Holiday Hope initiative. Started three years ago, Holiday Hope gives student groups the opportunity to partner with the Kingston Children's Aid Society to purchase holiday gifts for underprivileged families in Kingston, who otherwise may have not received gifts. Numerous faculty and staff members from QSB also supported the campaign.
This year, students brought gifts for 49 families including 81 children. Students signed up with their committees, housemates, and groups of friends. Holiday Hope is one of the Queen's Commerce Society's Outreach Commission's most popular initiatives. The ComSoc Outreach Commission is comprised of two fourth year students, Rachel Williams and Warren Duncan, as well as third year student, Nicola Plummer.
Nicola describes the spirit behind this popular event; "It means so much to see the Commerce community come together and give back to the Kingston community. They have been so welcoming to us during our studies, so we think it is fitting to give back during the holiday season, to show our appreciation."
With another successful year under its belt, the Commerce Society hopes to continue this mutually beneficial partnership with the Children's Aid Society for years to come. Other valued sponsors and partners include the NetImpact Support Centre, Oil Thigh Designs, the Tea Room and the Queen's School of Business.