QSB rings in the New Year with a full slate of student conferences and competitions
Posted on January 06, 2011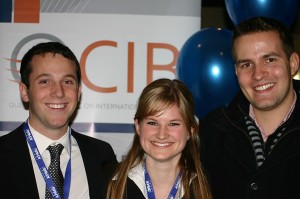 Six offered in January to undergraduate business students from Canada and beyond
Queen's Commerce Society (ComSoc) hosts six conferences and competitions in January – the busiest month for these extra-curricular events that attract undergrad business students from across Canada and around the world. From Canada's longest running business case competition (ICBC) to conferences on international business and the sports industry, QSB's Commerce students and their counterparts have a wealth of experiential learning opportunities to choose from.
Each conference and competition is organized by student volunteers who spend months planning every aspect, from marketing, sponsorship, and speaker invitations to all the logistics involved in delivering a top-quality event. Check out their websites, below, for details.
Inter-Collegiate Business Competition (ICBC)
January 06, 2011 – January 08, 2011
Canada's largest and longest-running business case competition, now in its 33rd year, received 170 submissions from students representing 41 business schools in Canada and abroad. Finalists descended on Kingston for the finals in early January, competing in one of eight disciplines.
Queen's Commerce Corporate Challenge (Q3C)
January 12, 2011 – January 14, 2011
QC3 is an interactive case competition that strives to create the most realistic business world simulation that current case competitions offer. An added bonus is the 3:1 sponsor to delegate ratio, giving participants maximum exposure to representatives of numerous industries.
Queen's Marketing Association Conference (QMAC)
January 13, 2011 – January 16, 2011
Participants will create a marketing campaign and media plan designed to increase Budweiser preference and sales. New to the competition, finalists will have the opportunity to work with Toronto advertising agency, GRIP Limited, to develop a professional billboard advertisement.
The winners of the 2011 QMAC Challenge will be flown by conference sponsor Anheuser-Busch InBev's headquarters in St. Louis, Missouri where they will be given the full Budweiser Experience consisting of a brewery tour, lunch with an Anheuser-Busch InBev executive and tickets to a St. Louis Cardinals game.
Queen's Conference on International Business (QCIB)
January 20, 2011 – January 23, 2011
For the second year running, QCIB will take place in Toronto. Eighty delegates from across Canada will participate in a variety of office visits, workshops, panels, cultural lunches, and a case competition all revolving around this year's theme ̶ Integrated Strategies for Global Success.
Queen's Entrepreneurs Competition (QEC)
January 20, 2011 – January 22, 2011
QEC receives business plan submissions from undergraduates around the world. The top sixteen teams are then selected and invited to pitch their business ideas to a panel of business leaders at QSB. In addition to receiving invaluable feedback from renowned judges, finalists compete for $25,000 in cash prizes, and a chance to pitch your plan to CBC's Dragons' Den.
Queen's Sports Industry Conference (QSIC)
January 27, 2011 – January 29, 2011
"QSIC 2011: Never Settle" offers an exciting opportunity for undergraduate students to learn about the sports industry through keynote speeches, speaker panels, and the Second Annual QSIC Case Classic (sponsored by Molson Canadian.)