QLEAD Conference brings high school students from across Canada to hone their leadership skills
Posted on November 23, 2011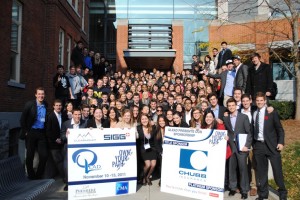 KINGSTON, Nov. 14, 2011— Queen's Leadership, Excellence and Development (QLEAD) has concluded its twelfth annual conference, this year showing delegates what it means to "Own Your Path" and find success through choosing unique avenues.
QLEAD is a weekend-long conference that aims to excite and motivate high school students who are passionate about leadership and interested in its application in the business world. The conference, which attracted 120 delegates from Vancouver, Halifax and across Ontario, featured six prestigious speakers who demonstrated that entrepreneurship is not limited to a certain age group. As explained by QLEAD Logistics Coordinator Charlotte MacDonald, "Many students come to QLEAD thinking there is only one structured path to success. Several speakers were entrepreneurs who emphasized the option of developing your own path to success and happiness." Notably, university student entrepreneur Dave Wilkin spoke of the importance collaboration and mentorship have played in the launch of his companies Redwood Strategic and CampusPerks.ca.
QLEAD was sponsored by Chubb Insurance, Scotiabank, and the CMA. To learn more about QLEAD, visit www.qleadofficial.com/.