Professors Yuri Levin and Jean-Paul Roy named top QSB Researchers
Posted on January 19, 2011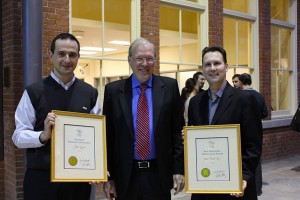 Kingston, ON – Research excellence exemplified by two prolific QSB faculty members was celebrated at a reception at Goodes Hall on Jan. 17. The QSB Award for Research Achievement was presented by Dean David Saunders to Yuri Levin, Associate Professor and Distinguished Faculty Fellow in Operations Management, while New Researcher Achievement Award honours went to Jean-Paul Roy, Assistant Professor and Toller Family Fellow of International Business.
Prof. Levin established his research credentials early. Only one year after joining the School in 2002, he received the New Researcher Achievement Award, and in 2009 he was a co-winner of the INFORMS COIN-OR (Computational Infrastructure for Operations Research) Cup for applications of COIN-OR technologies in the development of novel techniques for cargo capacity management and dynamic pricing. He currently serves as an Associate Editor of Management and was a Guest Editor of the special issue of European Journal of Operational Research on Revenue Management and Dynamic Pricing. He has consulted widely on modeling and optimization of pricing, developed corporate training programs in strategic analytics, operations management, and strategic pricing optimization, serves on the advisory boards of several companies and is a visiting professor at Skolkovo – Moscow School of Management.
Prof. Roy was recognized for his research on international strategic alliances, social networking and cross-cultural management. He is especially interested in how institutional environments influence the behaviours and performance of multinational enterprises and their executives. For example, he has examined the role of host country governance infrastructure in the partnering activities and performance of multinational enterprises. Another research stream has focused on investigating the social networking practices of firms and their executives in China and Japan, and how these practices are influenced by the institutional environment. The Adjudication Committee, comprised of faculty peers, was impressed by the fact that in each year since he completed his doctoral thesis, Prof. Roy has published his research in top-tier international journals, including Strategic Management Journal, Journal of International Business Studies, International Journal of Human Resource Management, Journal of Organizational Behaviour, and the Asia Pacific Journal of Management.