Judges wowed by Commerce students' performance at Q3C 2011
Posted on November 10, 2011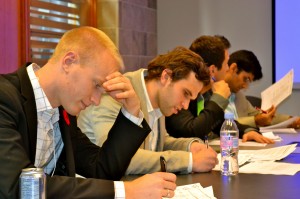 KINGSTON, Nov. 4, 2011 – The challenging and current cases, high-calibre judging and creative twists at the 2011 Queen's Commerce Corporate Challenge (Q3C) ensured that the quality of student presentations surpassed all expectations.
This year's competition featured two guest speakers: Matt Price, BCom'09, an associate consultant at Monitor, and Jennifer Bryant, a consultant at Level5.
Each of the three rounds of competition consisted of three hours of preparation time, a ten-minute presentation before their judges followed by a group feedback session. The last case of the competition involved a significant twist that forced competitors to think on their feet. The judges—representatives of Q3C's corporate sponsors—were impressed by the high-calibre thinking that competitors demonstrated, as well as by the professionalism of their presentations.
The three winning Queen's Commerce teams were first place winners Brennan Foo, Chester Lau, Gloria Pu, Walter Pang; second place winners Tyler Hennick, Winston Zhang, Artin Memar, Shayan Jawaid, Kiefer Cheng; and third place winners Danielle Amirault, Rachel Jurgens, Bryan McCann, and Chelsea Kerr.
The Queen's Commerce Corporate Challenge (Q3C) is a three-day case competition hosted annually at Goodes Hall. The competition is organized and executed by a student team, led by co-chairs Jemima Fogarty and Alanna Fonsecca, whose vision is to create the most realistic business world simulation that current case competitions offer.
-30-
For more information:
Chloe Tait, (613) 583-5932, 9celt@queensu.ca