Conference inspires Commerce students to unleash their entrepreneurial spirit
Posted on October 19, 2011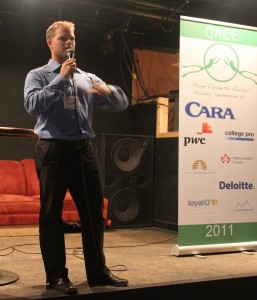 'From Vision to Reality' was the theme of this year's Queen's Advancing Canadian Entrepreneurship (QACE) Conference held the Oct 1st weekend at Goodes Hall. This annual event organized by the Commerce Society featured a Social Entrepreneurship Challenge that partnered with Falling Whistles, a company committed to fostering peace in the Congo. Keynote speaker Dr. Frank Hayden, founder of Canada's Special Olympics, gave an inspirational presentation on the entrepreneurial spirit as a life-long endeavour.
Other speakers included Brittany Lynch (CEO of Adwords Riches), Dave Wilkin and Scott Malcolm (Co-Founders of Redwood Strategic and CampusPerks), Kris Gabriele (College Pro), Michael Palmer (an entrepreneurship coach), and Rob Bracey (Founder of Quartet Services Inc.).
The conference was sponsored by Cara Foods (title sponsor), Pal Insurance, PriceWaterhouseCoopers, College Pro, Deloitte, Railway Canada, Loyalty One, Greenfield Ethanol, Falling Whistles and Clearmount.