ComSoc's "Queen's Wears Green" campaign targets mental health awareness
Posted on October 17, 2011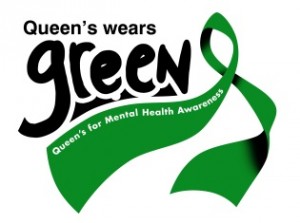 Kingston, Ontario– From October 17th to November 4th, Queen's Commerce Society Outreach Commissioners will be selling t-shirts campus-wide to raise funds and improve awareness of the mental health services available for Queen's students. The initiative, organized in partnership with the Canadian Mental Health Association, aims to improve overall resources for mental health services and is the first campus-wide mental health event organized and implemented solely by students.
"We know that more and more students are dealing with mental health issues at Queen's and at other universities," said Warren Duncan, campaign organizer. "We created this important initiative after the tragic loss of students from suicide last year. We want to do what we can to encourage people to reach out if they are feeling overwhelmed and reduce the stigma around talking about mental health."
The proceeds from Queen's Wears Green will be donated to The Canadian Mental Health Association and The Jack Project to improve mental health services for students across Canada.
The organizers have already received over 700 t-shirt orders from groups such as varsity soccer and rugby teams, physiotherapy society students, and Commerce committees. To order t-shirts students should look for Queen's Wears Green booths set up in the Athletics and Recreation Centre (ARC) and at Goodes Hall, as well as join the Queen's Wears Green Facebook group and follow the movement on Twitter @QueensWears where sales locations will be announced.
Queen's Wears Green wants to build on the success of last year's "Queen's Wears Pink," campaign that sold 1,500 shirts in support of Breast Cancer Awareness, and has set a goal of selling over 3,000 shirts.
A culminating rally and speakers' series will be held on November 4th at the ARC. Lorne Zon, CEO of the Canadian Mental Health Association, Eric Windeler from The Jack Project, and Queen's student group Existere will present.
For more information please contact:
Warren Duncan
Queen's Commerce Society Outreach Co-Commissioner
Warren.Duncan@business.queensu.ca | 613.583.8167