Commerce entrepreneurs earn spots in elite business program
Posted on January 12, 2011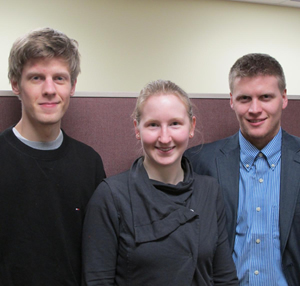 Queen's was well represented in 'The Next 36′ program for young Canadian entrepreneurs, with Commerce students Dan McCann and Emily Dymitosh and Engineering student Michael Schmidt each capturing a $25,000 scholarship. In December, the students competed in a rigorous weekend of interviews with some of Canada's top executives to secure their spots in this elite competition.
The Next 36 is aimed at helping launch the careers of the country's most promising and innovative undergraduates. 64 students from across the country competed for a spot in the elite group.
Dan is the founder of Dog on Geese (D-O-G), a company that uses trained border collies to rid golf courses, airports and other locations of Canada Geese in a way that is safe and won't hurt the environment. Emily is the founder of Practically Green Solutions, a sustainability consulting firm that helps small- to medium-sized businesses streamline their business practices in a cost-effective and environmentally-friendly way. Michael was involved in developing the world's first hybrid fuel-cell power station and is now starting up a scrap metal and recycling business.
The students were interviewed by top executives including Nadir Mohamed, president and CEO of Rogers Communications, and Tim Hodgson, special advisor to the Bank of Canada and the former CEO of Goldman Sachs Canada.
Members of The Next 36 have already been grouped into teams of four and will spend the next eight months developing mobile applications for hand held devices. Each team will receive $50,000 in seed capital to fund its venture. The students will spend next summer in Toronto learning the ins and outs of entrepreneurship from some of Canada's top CEOs, professors and business mentors.
The groups will then pitch their mobile applications to a panel of executives in August and try to strike deals that could be very profitable.
Visit http://www.thenext36.ca/ for more information.