"A Limitless Generation" is theme of Queen's Women in Leadership annual conference
Posted on November 18, 2011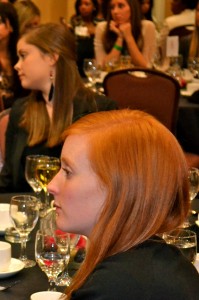 KINGSTON, Nov. 10, 2011 – This year's Queen's Women in Leadership (Q.WIL) conference was held Nov. 10th and 11th and featured presentations by several successful businesswomen, interactive workshops and a speed networking session. Headed by co-chairs Gillian Lee and Brynn Burstyn, the Q.WIL executive is comprised of eighteen Commerce students. This year's theme "A Limitless Generation" provided motivational insights that inspired delegates from Queen's and other universities across Canada.
Q.WIL's unique Mentorship Program matches Queen's Commerce students with Commerce alumnae who act as professional mentors. These relationships come into play during the Q.WIL Mentorship Brunch which took place in Toronto two weeks before the Kingston conference.
The Speed Networking session gave delegates the opportunity to connect one-on-one with representatives from firms including KPMG, PwC, and Monitor. Hearing from Leslie Morris of Your Signature Look at the Style Workshop was a highlight of the conference that also included fourteen other keynote speakers such as Linda Mantia, Senior VP of Procurement and Corporate Real Estate at RBC, and Kathleen Hebert, BCom'04, who is now working for Boston Consulting Group in the U.K.
For more information, visit www.qwil.ca
The Queen's Women in Leadership conference is the only conference at Queen's that aims to empower women to take on leadership roles. This year, it welcomed 61 delegates from any faculty of Queen's, as well as 11 delegates from elsewhere in Canada. This year marks the 15th annual QWIL conference.
-30-
Chloe Tait, (613) 583-5932, 9celt@queensu.ca.