1st place finish for Commerce team at international case competition in Vancouver
Posted on February 9, 2011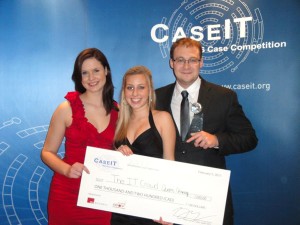 Queen's Commerce students Kayleigh Roberts, Morgan Klein-MacNeil and Ben Richards took top honours at CASE IT, an international undergraduate business case competition focusing on Management Information Systems (MIS). This annual competition, hosted by Simon Fraser University, took place from Feb. 2 to 5 in downtown Vancouver.
The team was coached by PhD candidate Jacqueline Corbett who accompanied the students to the competition that drew sixteen teams from around the world. Competing schools included Carnegie Mellon, Arizona State and San Diego State universities, the University of Manitoba, UBC, Singapore Management University and Warsaw School of Economics.
The four-day event included a panel discussion on Analytics – Insight into the Future by leaders in the MIS field. Teams were then assigned the competition case and given 24 hours to solve and present their solutions to a judging panel composed of industry professionals. The first place prize of $1,200 was presented to the Queen's team at the closing banquet on Feb. 5. Second place honours went to Indiana University's Kelley School of Business with the National University of Singapore placing third.