Voluntary Sector Reporting Award winners announced
Posted on November 30, 2010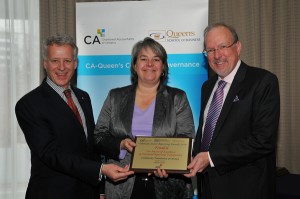 Five charities honoured for financial reporting at North York luncheon Nov. 26
TORONTO – The winners of the third annual Voluntary Sector Reporting Awards (VSRAs) were announced at a luncheon ceremony in North York on November 26. At a time when financial reporting is becoming increasingly important to organizations of all types and sizes, the VSRAs recognize those organizations within Ontario's diverse and growing not-for-profit sector that have achieved best practices.
The winners in the four categories are:
National and international organizations headquartered in Ontario:
        Ontario organizations
Total revenues over $10 million (tied)

Canadian Paraplegic Association Ontario
United Way Toronto *
Total revenues from over $1 million to $10 million:

Kingston Literacy & Skills
Total Revenues up to $1 million

Sarnia-Lambton "Rebound" A Program for Youth *
* Repeat winners
Launched by the CA-Queen's Centre for Governance and sponsored by PwC, the awards recognize best practices for financial reporting by registered charities that produce annual reports in Ontario. Their annual reports are rated for availability, clarity, user friendliness, accessibility and impact. Organizations compete in five categories based on revenue size, with category winners receiving $5,000 and recognition as leaders in the field.
Photo caption:
Dean David Saunders with Barbara McInnus and Scott Wilson of the Community Foundation of Ottawa – category finalist and Honourable Mention.
- 30 -
For more information, please contact:
Nancy Shield
Queen's School of Business
613-533-3254
Perry Jensen
The Institute of Chartered Accountants of Ontario
416-969-4271 or 1-800-387-0735 ext. 271
David Rowney
PricewaterhouseCoopers
416-365-8858
About the CA-Queen's Centre for Governance at Queen's School of Business
CA-Queen's Centre for Governance (business.queensu.ca/centres/CA-QCG/) goal is to raise the bar on Canadian governance research with respect to transparency and financial accountability and convey that research's implications to academics, students and the public at large. Situated at Queen's School of Business (business.queensu.ca), one of the world's premier business schools, the Centre conducts cutting edge basic and applied research on governance dealing with such issues as fraud prevention and detection and improving the quality of Canadian securities' regulation. The Centre's premiere not for profit program is the Voluntary Sector Reporting Awards that rewards voluntary sector organizations for transparent Annual Reports and financial accountability.
About the Institute of Chartered Accountants of Ontario:
The Institute of Chartered Accountants of Ontario is the qualifying and regulatory body of Ontario's 34,000 Chartered Accountants and 5,000 CA students. Since 1879, the Institute has protected the public interest through the CA profession's internationally recognized standards of qualification and the enforcement of its rules of professional conduct. Chartered Accountants are the professionals Canada's business leaders trust to help make the financial, strategic and leadership decisions that matter.
About PwC:
PwC firms provide industry-focused assurance, tax and advisory services to enhance value for their clients. More than 161,000 people in 154 countries in firms across the PwC network share their thinking, experience and solutions to develop fresh perspectives and practical advice. See www.pwc.com for more information. In Canada, PricewaterhouseCoopers LLP (www.pwc.com/ca) and its related entities have more than 5,300 partners and staff in offices across the country.
About PwC Canada Foundation:
In 2004, PwC established the PwC Canada Foundation ("The Foundation") to expand upon the firm's philanthropic activities and to build and empower community leadership by sharing of our time, expertise and resources. The Foundation currently operates a suite of community engagement programs that include Team Volunteering, Volunteer Grants, Volunteer Recognition, Leadership Grants and Volunteer Education and Engagement.
Over the past six years, PwC partners and staff have participated in over 1,300 meaningful volunteer experiences across the country contributing over 70,000 total volunteer hours back to the community. In recognition of the volunteer efforts made by employees and through the Foundation's grant programs, over 2,800 donations have been made to registered charitable organizations across Canada amounting to over $1.6 million and financial support. For more information about the Foundation, please visit www.pwc.com/ca/foundation.