Queen's School of Business Breaks Ground on $40 million expansion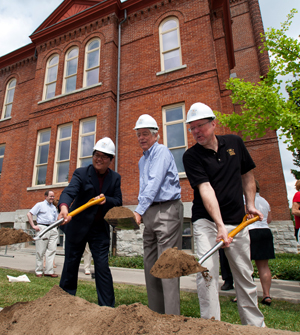 Historic Goodes Hall receives additional $5 million pledge from namesake
Kingston, ON – In response to increasing demand for enrolment at Queen's School of Business from aspiring undergraduate and graduate students across Canada and around the world, the business school officially broke ground on a new 75,000 square foot wing at a ceremony held today in Kingston, Ontario.
The expansion of Goodes Hall will include classrooms equipped with the latest teaching technology, breakout rooms designed to foster group discussion and teamwork, two new research centres and over 50 additional faculty offices. The new wing will also feature student offices and common areas, a multi-purpose room for conferences, guest speakers and corporate recruiting events. The project will be LEED certified, incorporating design elements that promote sustainability and reduce energy consumption.
"This new wing will enable Queen's School of Business to continue to educate the leaders of tomorrow, and allow more of the most promising young people access to the vital business training that a Queen's education provides," said visionary donor Mel Goodes, whose lead gift of $10 million in 2001 helped build Goodes Hall. Goodes, the former chairman & CEO of Warner-Lambert Company, has pledged an additional $5 million towards the new wing.
The new wing will be built on the west side of the existing 113,000 square foot Goodes Hall, with five levels including underground parking. The expansion will allow for an increase in enrolment across all QSB programs.
"This expansion will allow more great teaching, research and learning opportunities, while honouring our tradition of intimate learning," said David Saunders, Dean of Queen's School of Business. "By accommodating more of the best students, we will also expand our global footprint and alumni network, advancing our goal to be one of the most innovative and influential business schools in Canada and the world."
The ground-breaking ceremony was attended by hundreds of alumni, students, benefactors, faculty and staff and included remarks by Queen's University Principal Daniel Woolf, QSB Dean David Saunders, Mel Goodes, Jim Leech, Chair QSB Advisory Board and President and CEO, Ontario Teachers' Pension Plan, and student leaders.
Saunders acknowledged the School's many benefactors. "We are very grateful to all of our donors, including our corporate sponsors, BMO Financial Group, Cadbury Adams Canada, Cara Operations and PricewaterhouseCoopers, our Commerce students who pledged $1.2 Million, as well as three anonymous million dollar-plus benefactors. The commitment of our donors to this project is the reason we're celebrating this ground-breaking today."
$18.2 million of the $22 million fundraising portion of the expansion was funded through donations from alumni and friends, with plans to raise the final $3.8 million by January 2012. The remaining $18 million for the $40 million project will come from government and university funds related to program growth.
For more information, and to see images and floor plans of the expansion, visit www.goodeshallexpansion.com.
About Queen's School of Business
Queen's School of Business is one of the world's premier business schools – renowned for exceptional programs, outstanding faculty and research, and the quality of its graduates. Canadian executives regard Queen's as Canada's most innovative business school, offering students academic excellence and a superior overall experience. Queen's School of Business –where Canada's first Commerce program was launched in 1919 – is located at Queen's University in Kingston, Ontario. The School also delivers programs at locations across Canada, as well in the U.S. and the United Arab Emirates.
– 30 –
For media inquiries please contact:
Amber Wallace, 613.484.7033 / awallace@business.queensu.ca