QSB's Master of Management in Finance welcomes first class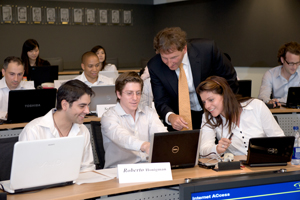 QSB opened its doors to its inaugural Master of Management in Finance (MFin) class this month. A five-day residential session in Kingston welcomed the 43 students on July 11. This introduction to the program featured presentations from guest speakers such as Tom Robinson, Managing Director, Education Division, CFA Institute, and Queen's alum Jon Aikman, LLD'99, author of "When Prime Brokers Fail: The Unheeded Risk to Hedge Funds, Banks and the Financial Industry." Regularly scheduled classes began in a downtown Toronto classroom the following week.
The new class hails from an impressive cross-section of firms in the Toronto area, including the 'Big Five' banks and their investment bank subsidiaries. More than half of the new class has passed the CFA level 1 exam or higher.
Queen's Master of Management in Finance is a unique 10-month program that enables students to continue to work while they pursue this highly sought-after degree. The program, developed in partnership with the Chartered Financial Analyst (CFA) Institute, includes extensive preparation for CFA Levels 1 and 2 exams and gives students an inside edge in attaining their CFA designation. MFin classes are held every Tuesday and alternate Saturdays at a downtown Toronto classroom.
The new class is scheduled to ring the bell to open the trading session at the TSX on August 25, 2010.
For more information on the program visit www.qsbmasters.com/finance.