QSB Students named Next Top Ad Execs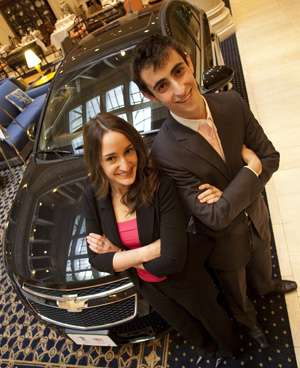 And handed keys to their own all-new 2011 Chevrolet Cruze.
In its fourth year, the national competition for Canada's Next Top Ad Exec sponsored by Chevrolet, offered business students across Canada the opportunity to develop an innovative non-traditional marketing campaign (including social media and event marketing) to help launch the new fuel-efficient Chevrolet Cruze coming to Canada this fall.
Of the 196 teams from 28 business schools who entered coast to coast, with a strategic plan to promote this all-new compact car from Chevrolet, ten advanced to the finals to present their ideas to a panel of 16 industry and academic experts gathered at the DeGroote School of Business at McMaster University.
The team of Rachel Zimmer and Bram Warshafsky from Queen's School of Business succeeded in an unprecedented double-victory, with Mark Scattolon from McMaster University. The Next Top Ad Execs were deemed to have developed the most inventive and executable pre-launch campaign for the Cruze.