Music industry and new media heavyweights rock the house
Posted on August 18, 2010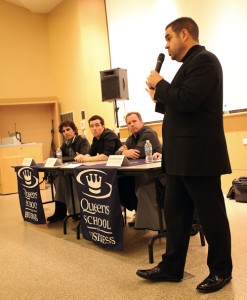 Panel attracts students interested in the music business
A packed house in Dunning Hall Auditorium welcomed keynote speaker Evan Lamberg, Cornell-Queen's EMBA'10, Executive VP Creative, East Coast Universal Publishing, on Oct. 2. The full-day event was attended by enthusiastic Commerce, MBA and Master of Global Management students who heard from industry experts on the current and likely future state of the music industry. The session formed part of the course work for a first-year Commerce class taught by professors Gary Bissonette and Greg Libitz and was also open to graduate students.
The morning session kicked off with Evan Lamberg's presentation on his perspective of the music industry and his experiences in charge of the creative side of a music publishing company. Evan was joined at an afternoon panel discussion by industry experts Justin Stockman, Director of Music and Marketing at Much Music/MTV/MuchMore and MTV2 networks; James Pertol, owner of RAMJAM Management and Bijou Records; Neil Bearse, new media expert who works with indie artists through social media; and Stephen Moccio, artist, producer and arranger who co-wrote and produced Nikki Yanofsky's hit "I Believe."
Topics covered during the panel discussion and subsequent lively Q&A included the ethical, legal and financial implications of music piracy; social media's role in music promotion; artist management issues and the necessity for the music industry to redefine business models in the face of changing market conditions.