MBA students predict take-overs of Canadian industry sectors by emerging markets
Posted on September 20, 2010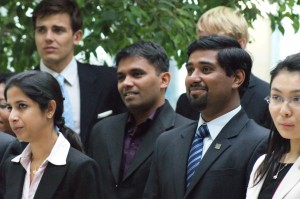 Winning student team asserts India most likely source of future foreign investors
KINGSTON, ON – MBA students studying international business honed their analytical skills and predictive powers by assessing which emerging market countries are the likeliest to acquire Canadian companies within the next five years. A full-day competition on September 11 at Goodes Hall in Kingston, featured presentations by the student teams before panels of judges as part of their ­­­­­­­­­­­­­­­­­­­­­International Business course requirements.
Student teams had to choose among Brazil, China, and India, to identify the competitive gaps that exist in the business environments of these emerging markets, and determine what capacities and strengths exist in the Canadian economy that might fill these gaps. They then predicted which sectors and Canadian companies are likely to come under increasing pressure for foreign takeover.
The competition was organized by International Business Professor, Dr. David Detomasi. "There were some very strong presentations that impressed our alumni judges who are seasoned veterans in international business. The students' research and preparation as well as their actual presentations enabled them to creatively apply some of the lessons we've covered in the course."
The winning team argued in favour of India being the emerging market most likely to make inroads through acquisition of Canadian companies.  Congratulations to its members Aneesh Datta, Geoffrey McMillan, Khushaal Kalra, Maya Vaysman, Frederick Dormekpor, Jainesh Shah and Matthew Yip.