MBA and Master of Global Management students explore India's possibilities
Posted on August 20, 2010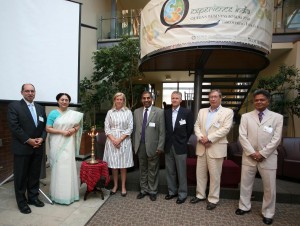 Students in the full-time Masters of Business Administration (MBA) and Masters of Global Management (MGM) program recently organized the first-ever Queen's Business Forum entitled 'Experience India.' Business leaders, politicians and diplomats gathered at Queen's to discuss India's influence on Canadian businesses, both as a partner and as a market.
Meredith Slemko, MBA candidate 2011 and a member of the event's central organizing committee, found the day-long event to be extremely beneficial.
"The forum really strengthened the importance of India as a potential place to be when graduates are applying for positions or opportunities," she says.
For Ricky Chandarana, MBA candidate 2011 and also a member of the central organizing committee, the months of hard work by more than 30 students paid off.
"The tremendous people—India's acting high commissioner to Canada, a former Canadian high commissioner to India as well as representatives from the Export Development Canada, Bombardier, Dupont, Tata Consultancy, ICICI Bank, Tory's Law Firms, Telus and many more—had great and valuable insights."
Mr. Chandarana said learning about young entrepreneurs who have enjoyed success in India also inspired the students.
As India continues to develop as an economic power, students in the Queen's School of Business are constantly learning about the opportunities and challenges of doing business in that country.
"India is starting to flow into a lot of our material. We talk a lot about how various aspects of business differ by country," Ms Slemko says.
The Indian students enrolled in the Queen's School of Business programs also share their perspective and knowledge.
"A lot of times when there is a discussion, there is a parallel drawn to India. They will say, 'this is how it's done in India.' That's been a great exposure for the rest of the class," Mr. Chandarana says.
India began growing economically in the early 1990s with liberalization of regulations that attracted direct foreign investment.
"It's very hard for a business to ignore the opportunities that exist in India," Mr. Chandarana says.
The Queen's Business Forum will become an annual event thanks to the success of Experience India. In future years other countries will be the subject of the conference.
"It's another strong event that serves to put Queen's School of Business on the map," says Ms Slemko.