Kingston Ventures Study Tour introduces Queen's MBAs to local businesses
Posted on October 5, 2010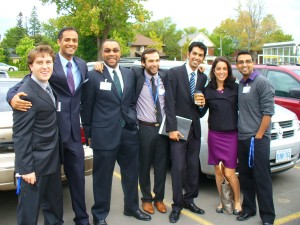 KINGSTON, ON – The Queen's full-time MBA Class of 2011 toured local businesses and learned to fine tune their pitching skills during the 9th annual Kingston Ventures Study Tour (KVST) on Sept. 16.
Each year, the KVST offers the incoming MBA class the opportunity to study small and medium sized businesses in the Kingston area. The event provides great exposure for local businesses and helps generate ideas about career direction for students. The tour provides students with an authentic insight into the real-life challenges faced by SMEs in Canada.
MBA teams are assigned three Kingston companies to visit throughout the day where they have the opportunity to ask questions about the nature and scope of the business. At the end of the day, each team creates a 90-second elevator pitch about one company that they present to a panel of judges at the end of the day. During the reception, presentations are done in front of representatives from the respective companies, other local businesses, School of Business representatives and a panel of judges.
The winning team is chosen by how strong their pitch is in increasing the judges' knowledge about the company and its service or products.
Andrew MacDonald was the designated pitcher for this year's winning team that included Diane Rai, Mandeep Bhatt, Rommy Hijazi, Christelle Sitti-Mawubedzro and Adam Zabrodski. Andrew's team pitched Qubit Systems Inc., a Queen's spin-off company that specializes in the design of instrumentation for research and teaching in the biological sciences, with a scope ranging from plant physiology to human respirometry.
This year's judging panel included Harvey Rosen, Mayor of the City of Kingston; Don Curtis, a marketing and communications consultant; and Charlie Reid, an independent consultant based in Kingston.
The winning team received a gift certificate to dine at Aqua Terra Restaubistro, one of Kingston's top fine dining restaurants.