'Green' Fashion – Student conference makes a statement on sustainability in the fashion industry
Posted on October 22, 2010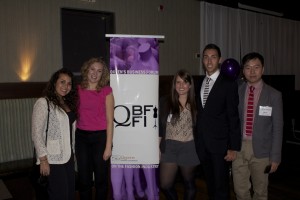 KINGSTON, ON,– The Queen's Business Forum on the Fashion Industry (Q'BFFI) focused on sustainability and social media issues impacting the fashion industry at its 6th annual conference in Kingston on Oct 15-17. Delegates from Queen's, the University of Toronto and Carleton University learned that 'Green Fashion' isn't about picking the next big fashion colour – it's about offering environmentally friendly and sustainable fashion choices.
The weekend featured networking and social events and presentations by Canadian fashion industry leaders, including:
- Kelly Drennan, 'Fashion Takes Action' founder, who briefed delegates on the Green Fashion movement;
- Dani Reiss, President & CEO of Canada Goose, who emphasized the importance of utility and authenticity over fleeting trends;
- Stacey Mackenzie, a fashion model who spoke of her journey from the impoverished streets of Jamaica to the runways of Paris.
New this year, The Fashion Challenge saw delegates design and market a new sustainable product for Le Chateau, a leading Canadian retailer. This 'Project Runway' inspired case competition required delegates to formulate a compelling marketing strategy for their products that they then presented to a panel of judges.
The Fashion Show Finale showcased gifted designers from within the Queen's community including Katherine Vasilopoulos, Hemani Kamdar, Stephanie Gagliardi, Nicole Emmett, Benjamin Jain and Jake Housden. MuseMagazine's blog at http://musemagazine.tumblr.com/ not only covered the show, its blog reinforced one of the conference's themes, namely the impact of social media on fashion.
For more information about the conference, including recognition of title sponsors XOXO Wine, Metro and Glacéau, visit www.qbffi.com or check out the Q'BFFI blog Business with Pleasure.