Former PM Paul Martin among speakers at Spring Convocation 2010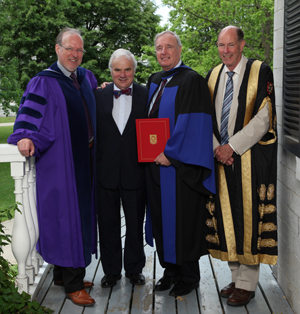 Kingston, ON – In a mix of old and new, historic Grant Hall and the new Athletics and Recreation Centre (ARC) hosted convocation ceremonies for nearly 690 proud Queen's School of Business graduates and their families on May 27, 28 and 31.
Former Prime Minister Paul Martin received an Honorary Doctorate and gave the Convocation address at the ceremony for full-time MBA, Accelerated MBA for Business Graduates, and Master of Management programs on May 28. In his remarks, he challenged the new graduates to exercise their judgment and do the right thing when faced with practices that challenge their sense of right or wrong. "If you are asked to push the envelope past where you believe you should, remember there is no asset you will ever possess that is greater than your own integrity and your reputation." Click here to view his complete address.
Don Bayne, (BA'66, LLB'69, LLM'74, EMBA'01) delivered the Convocation address at the ceremony for graduates of the Executive and Cornell-Queens MBA programs. He highlighted the lasting effects of the many lessons he learned in the MBA program and encouraged the graduates to make the most of opportunities that often present themselves during turbulent economic times. Click here to view his complete address.
David Sculthorpe, BCom'83 and past Chair of the School's Advisory Board, spoke at the ceremony for Commerce graduates and offered examples of some of the life-changing decisions that he has had made that didn't always follow the conventional wisdom. Click here to view his complete address.
The new gymnasium at the ARC and the Biosciences Complex hosted post-ceremony celebrations where family, friends and graduates celebrated and bid a fond farewell to faculty, staff and classmates.
Congratulations to all graduates – the newest members of the Queen's School of Business alumni family.