Entrepreneurship Conference features Harry Rosen, benefits TOMS Shoes
Posted on October 13, 2010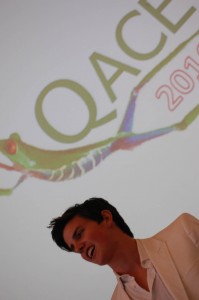 KINGSTON, ON – Student delegates from across Queen's were challenged to 'Risk It' at the Queen's Advancing Canadian Entrepreneurship (QACE) conference held Sept. 30 to Oct. 2. This popular annual conference organized by the Commerce Society attracts business leaders and delegates from all Queen's faculties to discuss what it means to be an entrepreneur in today's ever-changing world.
Highlights of this year's conference included presentations by speakers such as Harry Rosen (founder, Harry Rosen Menswear), Pamela Jeffery (founder and CEO, Women's Executive Network), Gerry Visca (Canada's leading motivational speaker) and 'serial entrepreneur' Greg Cochrane, MBA'74.  The QACE Social Entrepreneurship Challenge, held in support of TOMS Shoes, featured delegates brainstorming ways to increase awareness of the shoe company's 'One for One' policy that sees TOMS shoes donate a pair of shoes to a child in need in the developing world for every pair of shoes purchased.
Sponsors for this year's conference included CARA Foods (Title), College Pro Painters (Social Entrepreneurship Challenge), Capital One, Rogers, Deloitte, GreenField Ethanol, Chevron, CIBC, Chisholm, Notre-Dame Capital Inc., Pal Insurance, Thomas Large & Singer Inc., Homestead, Price Waterhouse Coopers, Mars, P&G, Steam Whistle, Grange Prince Edward Island, Metro Label Group Inc., Minos, and ENVY Hair Salon.