Commerce student Jeff Batchelor Going for Gold at the Vancouver Olympics
Posted on February 3, 2010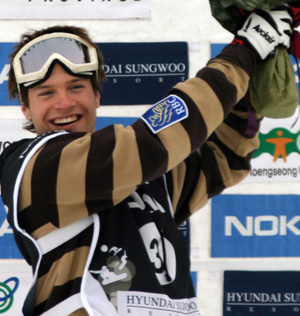 QSB Commerce student Jeff Batchelor secured his spot on the Canadian Snowboard Olympic team with a silver medal performance at a World Cup snowboarding event in Stoneham, Quebec in January.
Jeff scored 44.3 in his final run, giving him in second place behind Finland's Janne Korpi. It was Batchelor's second straight podium finish at Stoneham, after winning gold there in 2009.
Batchelor has turned in two top-5 finishes in Olympic qualifiers, earning him priority selection for the Canadian Olympic Snowboard team.
Jeff's journey on the Olympic qualifying circuit can be seen on the popular MTV/CTV reality show "Over the Bolts" where he is a featured fan favourite. This 21-year-old student athlete constantly challenges himself and is a strong contender for an Olympic medal at the 2010 Vancouver Olympics.
Cheer on our own Commerce Olympian by visiting Jeff's Facebook page and sending him your best wishes!