6th Annual CSR/Responsible Leadership Weekend Full of Inspiration and Insights
Posted on October 21, 2010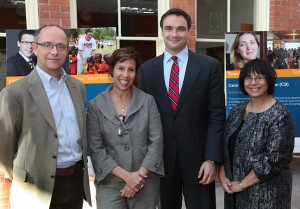 KINGSTON, ON – Nearly 300 students in the Commerce, MBA, and Accelerated MBA programs attended the 6th Annual CSR/Responsible Leadership weekend October 15-17th.
Hosted by the Queen's School of Business Centre for Responsible Leadership (CRL), the conference exposes students enrolled in its certificate programs to some of the tough issues they will face as future leaders. One aspect of the Centre's mission is to develop outstanding socially responsible leaders.
The weekend kicked off with an announcement by Dean David Saunders of a new partnership between the CRL and KPMG. As a signature sponsor of the Centre, KPMG will work closely with the School to develop a variety of initiatives to enhance the Centre's work in the area of responsible leadership. "We are absolutely thrilled to have KPMG as our signature sponsor," says Centre Director Tina Dacin. "This funding will enable the Centre to engage in a number of exciting new initiatives, including exploring opportunities for new global internship programs for our students."
This year's conference featured a diverse line-up of speakers and a variety of topics, including keynote speaker Petra Cooper (Founder/CEO of Fifth Town Artisan Cheese) on "Living the Dream", and Donald MacPherson (former policy advisor with the City of Vancouver) whose presentation launched the Centre's "Pause Event" series. "Pause Events encourage people to take time out to reflect on issues facing our local communities" Dr. Dacin explains.
Other topics and speakers included:
Sustainability
Nicholas Parker, Executive Chairman, Cleantech Group
Ersilia Serafini, CEO, Summerhill
Giselle Weybrecht, Author of The Sustainable MBA
Socially Responsible Investing
Michael Mullins, Vice President-Financial Consultant, RBC Wealth Management
Design Thinking & Innovation
Patrick Glinski, Head of Social Innovation, Idea Couture
Social Media & Social Good
Neil Bearse, Associate Director, Web-based Marketing, Queen's School of Business
Patrick Glinski, Head of Social Innovation, Idea Couture
Sidney Eve Matrix, Film & Media Department, Queen's University
Anthony Wilson-Smith, Vice-President, Communications, Canada Post
Responsible Leadership Jobs/Recruitment
Tania Carnegie, National Director of Community Leadership, KPMG
Adrian Mucalov, Associate, Infrastructure, Actis
Jamieson Saab, Sustainability & Social Responsibility Coordinator, Grand & Toy
Andrew Souvaliotis, Chief Impact Officer LoyaltyOne | AIR MILES for Social Change
Community Leadership
Gary Bissonette, Queen's School of Business Professor
Mukesh Gupta, Director of Strategic Relations, Tata Consultancy Services Canada
Dani Reiss, President/CEO, Canada Goose
Leading Social Innovation
Celia Cruz, Director, Ashoka Canada
Tina Dacin, Director, Queen's Centre for Responsible Leadership
Tonya Surman, Executive Director, Centre for Social Innovation
The conference concluded with a case competition for Commerce students. The first-place prize of $500 was donated to the charity of the winning team's choice by Nexen, one of the Centre's sponsors.
For more information on the Centre and its activities, visit www.responsibleleadership.com