Queen's School of Business Hosts 28th Annual Business Forecast Lunch
Posted on December 3, 2009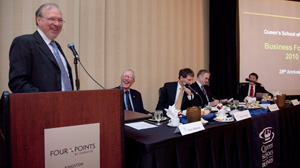 KINGSTON, ON – Queen's School of Business professors made their economic predictions for 2010 at the 28th annual Business Forecast Lunch today in Kingston, Ontario. An expert panel of faculty presented the economy's prospects with a focus on their own particular expertise, including a review of the 2009 forecast.
Overall, the Canadian economy appears to be on the mend. But while the financial markets are rising, consumer confidence is declining. In 2010, the business world will need strong management to convert our uncertainty for risk. 2009 was a hard year for Kingston, and the next three to five years will prove to be a critical juncture for the city. A summary of each panellist's forecast is included below.
Macroeconomic outlook
"The economy has climbed out of an almost year-long recession and we expect modest growth for next year," said Finance professor and Business Forecast Lunch moderator, Dr. Lew Johnson in his macroeconomic forecast.
To continue stimulating economic activity, the Bank of Canada will leave interest rates largely unchanged. While the unemployment rate is currently high, Professor Johnson said we can expect it to stabilize next year before declining. We can also expect the dollar to continue to oscillate around its current level of just below par with the U.S. dollar.
But the picture is not all rosy: Consumer confidence is declining and although inflation has been close to zero it will rise gradually in 2010. Professor Johnson predicts that the recovery will continue to be led by government spending with exports starting to rebound during the first half of 2010.
Financial markets
"It has been a good year so far," said Dr. Sean Cleary, CFA and BMO Professor of Finance, who presented on the financial markets perspective.
Dr. Cleary reported that the TSX is up 27%. These returns have been led by our core industries: Financials, Mining and Energy. Global markets saw similar growth and are up 25%, with the U.S. market only up 20%.
He notes, however, that while Canadian markets are up 50% since their lows in March 2009, we are still down 24% from the highs of June 2008.
Price-Earnings ratios are now in line with long term averages, but Professor Cleary does not believe we are in an "average" market because there are too many risks out there – from unemployment to the U.S. economy and its host of problems such as bank issues, delinquent borrowers, the auto industry and debt level to global financial risk like Dubai's debt crisis.
"I don't see much upside in equities over the next year," said Dr. Cleary, "but over the next 5 to 10 years I expect good returns."
Strategic outlook: Managing for the economic recovery
2010 will be another year of hard money reported Dr. Douglas Reid, Associate Professor, International Business, and Distinguished Faculty Fellow in Strategy. "People want to believe that we are headed for economic recovery, but reality, such as the debt load in Dubai and the poor TSX performance, indicates otherwise."
Converting the business world's uncertainty for risk and giving them the confidence to act is the prime managerial job for 2010.
"It is less important to end the recession than it is to understand what will start the recovery – two very different ideas," said Dr. Reid.
Professor Reid recommended that companies look to management techniques such as scenario planning and open innovation to move themselves out of the recession.
"In 2010 it's not about leadership, it's about management," said Dr. Reid.
Management teams need to define and implement measures beyond top line growth. "What if there isn't any top line growth? How will a company know it is performing well?"
The biggest issues in 2010, Professor Reid predicts, go beyond the bottom line and reflect more how the cost of recovery will be financed – through tax increases, service cuts or, worryingly, deliberately induced inflation."
Local outlook
"2009 was not kind to Kingston," said Professor Kenneth Wong, Commerce '77 Fellow in Marketing and a veteran BFL panelist. "But it was far less harsh than it was for most other CMAs."
On a comparative scale, Kingston was ahead of other municipalities in areas like income growth, employment and retail sales. "What remains to be seen," said Professor Wong, "is whether these gains came because Kingston leapfrogged over others or because the city is treading water while others were drowning. One thing is clear: The results would have been much different were it not for the capital projects started under the last council."
Clearly, the government sector – specifically municipal capital projects such as those at Queen's University and Kingston General Hospital – shielded Kingston from the manufacturing sector woes felt by other communities. There were, however, also some high points tied to manufacturing and services in the environmental sector, namely with an increase in windmills and solar panels locally.
Professor Wong noted that two big questions still loom: "Can we continue to cultivate further gains before the capital plans, which have already been announced, run their course?" And "What is the impact on the local government-dependent economy when the federal and provincial governments reduce spending or raise taxes in order to reduce the massive deficits tied to bail outs and shovel-ready stimulus programs?"
He does believe firmly that continued prosperity will not happen on its own and that with the negative impact of low population growth, high rates of business and corporate bankruptcies, and the troubled state of the U.S. economy, government spending cannot make up the difference indefinitely.
"The next three to five years will be a critical juncture for the city of Kingston," said Professor Wong.
The Business Forecast Lunch was founded 28 years ago by Queen's School of Business professor emeritus Merv Daub to establish an important link between the School and the Kingston business community.
About Queen's School of Business
Queen's School of Business is one of the world's premier business schools – renowned for exceptional programs, outstanding faculty and research, and the quality of its graduates. Canadian executives regard Queen's as Canada's most innovative business school, offering students academic excellence and a superior overall experience. Queen's School of Business – where Canada's first Commerce program was launched in 1919 – is located at Queen's University in Kingston, Ontario. The School also delivers programs at locations across Canada, as well in the U.S. and the United Arab Emirates.
Visit https://smith.queensu.ca/_templates/documents/general/BFL2010.pdf to view the Business Forecast Lunch presentation.
For more information, please contact:
Amber Wallace or Lisa Brophy-Gervais
Queen's School of Business
613.533.3151 / 613.533.2269
awallace@business.queensu.ca / lbg@business.queensu.ca