Queen's MBA team racks up wins at business plan competitions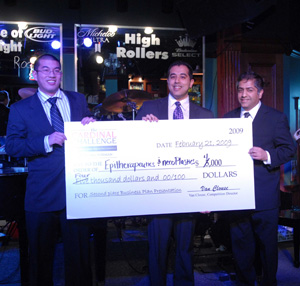 A team of Queen's School of Business MBA students took home the grand prize of $25,000 in a recent win at the 2009 IBK Capital/Ivey Business Plan Competition. Team Epitherapeutics, which is developing an anti-cancer drug, was judged best of the business plans from twelve teams from universities across Canada. Recent competitions saw the team tied for second place splitting an $8,000 prize at the University of Louisville and tied for 3rd place at the University of San Francisco receiving a $1,000 prize in addition to patent and legal advice from a San Francisco law firm valued at $5,000.
Selected from over 300 business plan teams from around the world, the MBA team comprised of Shyam Ramchandani, Ryan Son Kee and Amit Bhalla will travel to Houston, Texas this April 16-18 to compete against 36 international teams for more than $800,000 in prizes at the ninth annual Rice Business Plan Competition. This event remains the largest and richest, graduate-level competition in the world. FORTUNE Small Business and CNNMoney.com will again cover the competition. Teams will be profiled on CNNMoney.com prior to the competition and winning teams will be featured in the June issue of FORTUNE Small Business.
In May, the team moves on to be the sole Canadian representatives at the Global Moot Corp Competition at the University of Texas. Known as "The Super Bowl" of world business plan competitions, the team will have the opportunity to compete against graduate students from around the world for up to US$100,000 in cash and prizes to start their new venture.